Software Development Services
Codesoftic is a leading custom software development company in India, with an experienced software development team that creates innovative and effective business solutions. We exercise industry latest and best practices to deliver robust, secure, and scalable custom software development services. We have successfully helped many businesses of all sizes to grow and achieve their business goals using advanced technologies like Artificial Intelligence, Block Chain, and machine learning.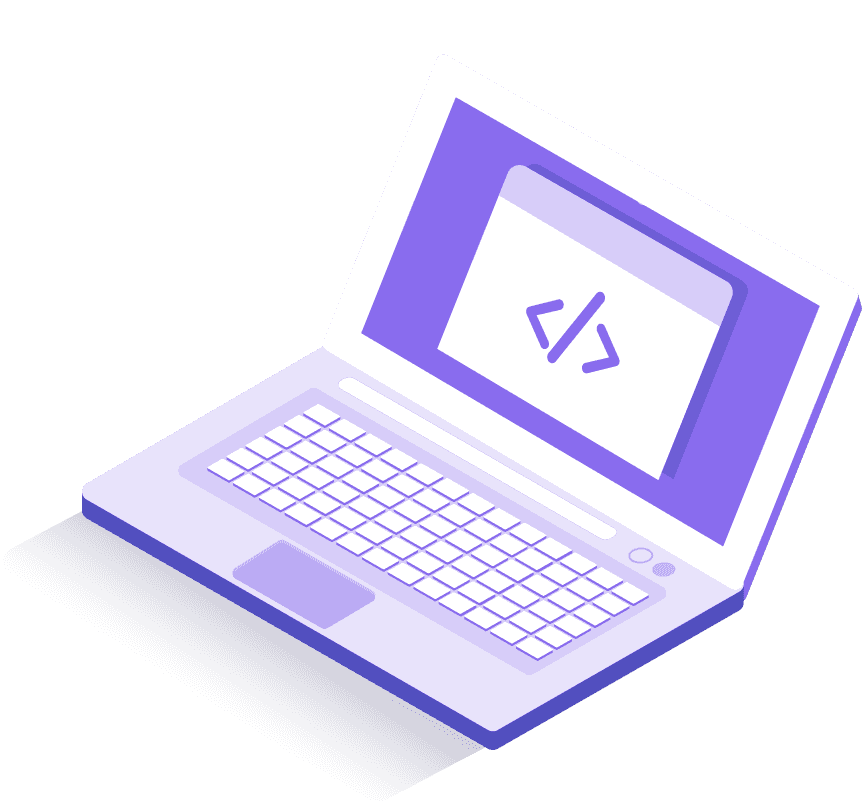 Custom Software Development Services
We offer custom software development services to solve your business problems and match your business requirements that promote growth with our tailored software development services. Noting the ideas gathered through consultation and research, our team utilizes them strategically to create wireframes, mockups, and prototypes. Our developers integrate them using the latest technologies to build scalable and secure custom software applications from scratch. Furthermore, we excel in agile project management, business analysis, data systems, and quality assurance.
Customer Relationship Management (CRM)
It is software whose main objective is to build relationships between a business and its clients. It is for the improvement of customer service, sales increase, and monitoring of the workers' activity.
Codesoftic empowers your business with a system to store and organize all the information about work with clients. It also helps you study the current market trends, analyzes the sale methods, which are profitable for you. Also, the products most frequently sold and the services in high demand.
Enterprise Resource Planning (ERP)
Codesoftic Tech Pvt Ltd provides ERP solutions for businesses and companies looking forward to improving their resource planning and business management. With us, manage your finance, human resource, manufacturing, supply chain, services, and much more at one place with a scalable, robust, and secure Enterprise Resource Planning Software. We create custom software development services like ERP with the use of the latest technologies, such as machine learning and AI, to provide intelligence and efficiency to your businesses.
Custom Software Development Services To Major Industries
Education
From online tools to in-classroom courses, we offer the latest digital solutions to keep challenging the learning process.
Retail
Our innovations in supply chain management, merchandising, eCommerce, and mobility transform traditional retailers into digital powerhouses.
Manufacturing
We help change the way you develop, source, and distribute your products providing digital solutions today so that you can revolutionize your performance tomorrow.
Accounting and Finance
We provide digital aid to finance, loans, EPM services, and other banking solutions to grow your business and keep customers at the center of your organization.
Telecom
Our company has helped the telecom industry achieve operational efficiency, improve their wireless, and satellite communication. And our software services help them provide better services to clients.
Non-Profit
We offer real-world solutions and have experience handling the unique technological challenges non-profit organizations and associations face.
Healthcare
Codesoftic offers 24/7 hosting and support of complex IT infrastructures and healthcare firms. And we have delivered full-suite web and mobile solutions for some hospitals and medical firms.
Travel & Hospitality
We have created agents and customer-oriented travel applications for various clients. Hence, we also offer custom software development for your travel businesses.
Transportation & Logistics
We have deep domain expertise in every aspect of the transportation and logistics business delivering high value to our clients by creating agents and customer-oriented applications.
Dedicated Resource Model
It is software whose main objective is to build relationships between a business, and its clients. It is for the improvement of the customer service, sales increase and monitoring of the workers' activity. Codesoftic empowers your business with a system to store and organize all the information about work with clients. It also helps you study the current market trends, analyzes the sale methods, which are profitable for you. Also, the products most frequently sold and the services in great demand.
No hidden costs
Monthly billing
Pay only for measurable work done
No setup fees
Fixed Time & Fixed Price
It is a software application that is used to create and manage digital content. We can add, delete and edit the content to publish on the website. Website updates can be quick and effortless with a CMS. Even when using the administrative interface, components like menus, headers, footers, and sidebars can be easily (and quickly) updated.
CMSs are very SEO-friendly and help to create content to target search results. They can include custom page titles as well as metadata and adjustable URLs.
Know what you're getting
No hidden costs
Milestones based billing
Fixed Timeline
Frequently Asked 

Questions
How much time do you take to create software?
First of all, time required to create a fully functional software application is based on various factors. Customized UI/UX designing work can take around 1-4 weeks, depending on the complexity of the project and the number of revisions you require.
Furthermore, the development phase requires an additional 1-6 weeks depending on the number of pages and functionality required. We follow an agile software development process that helps us to deliver your project in a minimum possible time.
Will you provide me a full time dedicated project manager for my software development project?
Yes! We provide you a project manager who is dedicated to your project only. In addition, the manager keeps you informed about what's going in your project at regular intervals of time. Moreover, you can offer your feedback to this person. He will manage the work according to your feedback.
Can I see my software while it is in progress?
Of course, yes! In fact, we encourage this thing. We want you to keep looking at your software's progress as this will help us to get the best feedback from your side. Ultimately, it will be helpful for us to give you the best software solution.
We create your software on our development server. In the end, we provide your username and password. You can use these credentials to log in and look at the progress of your software.
Is it necessary to have a face to face meeting in order to begin my project?
First of all, face to face meeting is not always necessary. Most of the time, our web apps are generally completed with contact through telephone, email, or Skype.
Do you guarantee the security and confidentiality of our intellectual property?
This clause is included in the IP contract, and a strict NDA is also signed between Codesoftic and its customers. Moreover, the same clause is also signed between Codesoftic and its employees.
Also, our software development agency audit our processes and train employees at regular intervals. In the end, and these efforts make sure that the intellectual properties of our customers are always secure.
Are there any hidden charges that you put on your customers?
No! We discuss your custom software development requirements and price with you in the first place. After that, we adhere to that price, and there are no hidden charges for our clients.
For all that you claim, isn't the rate too low?
Low or high are meaningful only in context. The rate is low not because of technical limitation, but simply because we operate from India, where living costs are lower due to international economies and exchange rates. It is our strategy to pass on these location advantages to our clients.
What benefits can you guarantee?
All projects we take up carry the following guarantees:
Confidentiality guarantee: All client details will be kept confidential
Price guarantee: No hidden charges!!! We believe in transparency in our work.
Results guarantee: Progress-linked payments weighted toward the end.
Can you guarantee time-bound results?
No. We work on time-based billing for reasons that benefit our clients, and guaranteeing fixed-time results means compromising on that clarity and delivering sub-optimal results to clients. The team may be able to give you an idea, but that is not a business guarantee.
How many development resources do you usually assign to a project?
The number of resources employed for a project depends entirely upon the scale and complexity of the project. For example – we allocate two developers, one tester and a part-time UI designer for a small project. In addition, each project will have a Technical Architect, Business Analyst and Project Manager. We can increase the number of resources depending upon the customer/project requirements.